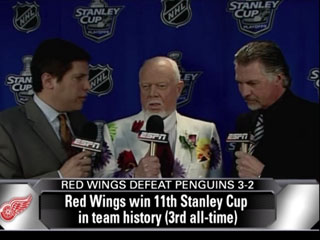 Don Cherry and Barry Melrose break down Detroit's Cup win with Steve Levy.
The Stanley Cup finals are over, but hockey analyst Barry Melrose took center stage on all ESPN platforms, breaking down every part of the Detroit-Pittsburgh series. Hockey fans and ESPN viewers got an additional treat as Don Cherry joined Melrose on ESPN for the finals.
Cherry is the Canadian Broadcasting Company's hockey analyst and is a part of the network's long running "Hockey Night in Canada" show.
Two of the best hockey analysts not only shared the set during ESPN's Stanley Cup finals coverage but also showed off their style.
The best hockey analyst in the USA vs. the best hockey analyst in Canada. Mullet vs. buzz cut. Pinstripes vs. flash. It's Melrose vs. Cherry in the final installment of the First Stanley Cup Finals Suit-Off!
We want to know what you think, SportsNation: Which hockey analyst's suit do you like better? Vote below and let us know!
Also, be sure to check out ESPN.com's coverage of the Stanley Cup finals!