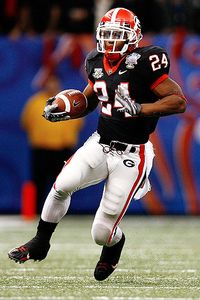 Will Knowshon Moreno lead Georgia to its first national title since 1980?
The long summer of Brett Favre, Chad Johnson and Michael Phelps is almost over, soon to be replaced with a fall highlighted by Tim Tebow, Knowshon Moreno, Michael Crabtree and many more. The kickoff to college football season is near, which means it's time to talk about which teams will contend for a conference title and who will win that elusive national championship.
The likelihood of a tough battle for the national title game is already apparent, with five teams receiving first-place votes in the AP Preseason Top 25 poll. Although the odds are bleak that any team will finish the season undefeated, the battle to see who can keep a goose egg in the loss column the longest should be a fun one.
The SEC leads the pack with two of the top five teams in the nation. The mighty LSU Tigers come in looking to defend as national champions, and the top-ranked Georgia Bulldogs will go for their first title in 28 years.
Although the fight to be a national champion is a tough one, the crusade to be named king of the conference looks to be just as difficult. Will the battle for Pac-10 king come down to UCLA and USC? Will Penn State return to its old form and win the Big Ten? Is West Virginia the only true contender in the Big East? The only guarantee is that the 2008-09 college football season is sure to be a good one!
SportsNation, we want your take on each conference and your pick for national champion. Cast your vote now!