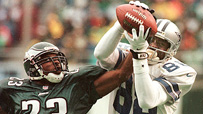 The Cowboys and Eagles have one of the NFL's fiercest rivalries.
Some of the NFL's best rivalries date back to the 1920s and 1930s, when the league was first getting started. The most enduring of these early-NFL matchups is the Packers versus the Bears. The two teams first met back in 1921, and more than 80 years later the two are still bitter division foes.
Not all rivalries, however, require longevity. One need only look at the intense rivalry between the Browns and Ravens (which began in 1999) to realize that betrayal by relocation is a more than adequate substitute, in a good rivalry, when decades of vitriol are not available.
As the 2008-09 NFL season heats up, we want to know which matchups represent the best rivalries in each of the NFL's eight divisions. Is a Cowboys-Eagles game better than a Giants-Redskins game? Is a Chiefs-Raiders matchup more intense than a Raiders-Broncos or Broncos-Chiefs matchup?
Vote now, and then see which division rivalries SportsNation likes best!