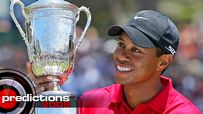 How many majors does SN see Tiger Woods winning in 2009?
As a new year dawns, we want SportsNation to get its predictions in for 2009.
Do you see Brett Favre still playing for the Jets at the start of next season? How many games will CC Sabathia win in his first year with the Yankees? Who will be named the NBA's most valuable player?
Don't look to us for the answers. We have no idea what to expect from the coming year. Simply do your best and at the end of 2009 we'll take a look back at your forecasts and see how you fared!
Below, we've asked you to forecast 18 results. Make sure to answer all the questions and then see how the rest of the Nation voted.