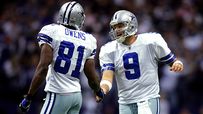 Will Terrell Owens and Tony Romo stay together?
Love is in the air, SportsNation, and that can mean only one thing: Valentine's Day is here! To celebrate this occasion, we have come up with a list of the hottest pairings in sports, and we're asking you to predict which of these relationships will last and which ones will crumble.
Now, any healthy relationship takes work, no matter how much love (or lack thereof) is involved. In the past year, the sports world has seen this through the rocky relationships of Terrell Owens and his employer in Dallas, as well as the city of Detroit and its professional football team. And sometimes, no matter how much chemistry two parties have had in the past, unforeseen events come between them. We're looking at the two of you, Tiger Woods and golf's No. 1 ranking.
So cast your vote below! It doesn't matter if you believe Valentine's Day is a mere commercial scam, a sinister candy and flower industry conspiracy, or a day when true love can flourish, because in the end, we can all agree that predicting the longevity of other people's relationships is always fun -- especially in the drama-filled world of sports.
Also, make sure you take a look at last year's Valentine's Day results!