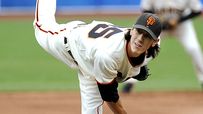 Tim Lincecum hasn't suffered a Cy Young hangover.
It's never too early to start handicapping the races for baseball's biggest individual awards. All right maybe it is too early, but what's the harm in being first in line?
The first month of the MLB season is in the books, and believe it or not, that means teams have played more than 10 percent of their games. That means more than enough numbers to start talking about MVP, Cy Young and Rookie of the Year.
Which players are looking strongest out of the gates, SportsNation? There are some familiar faces, like defending NL Cy Young winner Tim Lincecum, and less familiar names, like Tigers pitcher Armando Galarraga.
There's a long way to go, but help set the field!