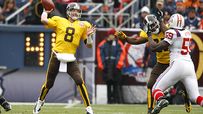 Do the Broncos have the worst AFL throwback uniform?
How do you feel about this season's AFL throwbacks? Please rank each one on a scale of 0 (awful) to 5 (awesome). You can give the same score to more than one team. Click on each team's name if you need a refresher course on what their throwbacks look like.
Once you've finished with that, do the same thing for all of the NFL's uniforms by clicking here. Also, vote on your favorite (and least favorite) uniform conventions.