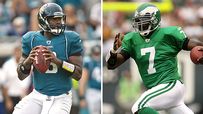 Is David Garrard or Michael Vick a better starting QB this week?
Which fantasy football players should fans around the Nation start, and which should they sit?
Fantasy football owners can easily relate to each other because we've all basically been there. Take this dilemma, for example: It's Sunday morning. You have a gaping hole at one position and have no idea whom to fill it with. You look at your bench options, and they're all mediocre at best. So whom do you start?
Usually, you'd have to make this decision on your own. But now, SportsNation will make the choice for you. Handpicked below are 15 scenarios submitted by fans. Help the Nation decide which players should start and which should sit. (All fans listed below are in standard scoring leagues, unless noted otherwise.)
Submit your own fantasy football Start 'Em or Sit 'Em question for Week 3!