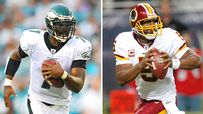 Would you start Michael Vick or Donovan McNabb this week?
Which fantasy football players should fans around the Nation start, and which players should they sit?
A Donovan McNabb-Michael Vick showdown is happening not only in the NFL this week ... but in fantasy leagues across the Nation. Our mailbag was filled by panicky fantasy owners hoping for some guidance on the McNabb-Vick conundrum. Do you bench McNabb in hopes that Vick continues to be red-hot? Or do you stick with McNabb and pray Vick's third start is nothing like his first two? Your guess is as good as ours. Luckily, the Nation is here to make that decision for you.
We've selected some of the most perplexing start-or-sit questions from around SportsNation. Now it's time for you to lend a hand and answer some of the tough ones below!
Submit your own fantasy football Start 'Em or Sit 'Em question for Week 5!