By Thomas Neumann
Page 2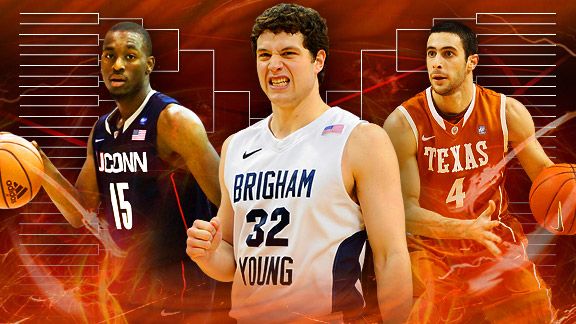 Welcome to the second round of Page 2's Coolest Name in the 2011 NCAA Tournament bracket.
To review: Page 2 is entrusting you, dear readers, with selecting the coolest player name in the 2011 NCAA men's basketball tournament.
Our criteria for the best name is similar to how Supreme Court Justice Potter Stewart defined obscenity in 1964 -- you know it when you see it. A great basketball name should be fun to say, fun to spell or cool and unusual.
Of note in the Dallas Comegys Region, No. 12 seed Flip Pressey of Missouri surprised No. 5 Aziz N'Diaye of Washington, and No. 10 Crandall Head of Illinois edged past No. 7 Ovie Soko of UAB. No. 2 Robinson Odoch Opong of Long Island survived a scare from scrappy No. 15 Hippolyte Tsafack, Memphis. Tsafack is only a freshman, so he may make waves in future years after gaining valuable experience in this year's tournament.
Over in the Gog Shammgod Region, No. 1 seed Fab Melo of Syracuse earned the highest percentage of votes of any player in the entire bracket. Meantime, No. 13 seed Scootie Randall of Temple nearly doubled the vote total of No. 4 Lazeric Jones of UCLA, and No. 10 seed Dakotah Euton of Akron convincingly moved past No. 7 DeAndre Liggins of Kentucky.
Now that our field has been whittled from 64 to 32 player names from this year's NCAA tournament field, Page 2 invites you to vote in the second round of the Coolest Name in the 2011 NCAA Tournament bracket.
Vote in the Dallas Comegys and God Shammgod regions at the bottom of this page, and use the links below to vote in the other regions and check complete results.
Second-round voting ends Monday at 10 p.m. ET. Check back Tuesday to vote in the third round.
• Click here to vote in the second round of the Uwe Blab, Ruben Boumtje-Boumtje regions
• Click here to view the complete bracket and voting results