By Thomas Neumann
Page 2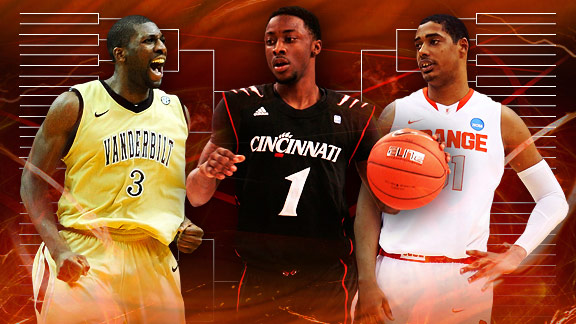 Welcome to the regional finals of Page 2's Coolest Name in the 2011 NCAA Tournament bracket.
To review: Page 2 is entrusting you, dear readers, with selecting the coolest player name in this year's NCAA men's basketball tournament from our bracket of 64 candidates. The fourth-round ballot can be found at the bottom of this page.
Our criteria for the best name is similar to how Supreme Court Justice Potter Stewart described obscenity in 1964 -- you know it when you see it. A great basketball name should be fun to say, fun to spell or cool and unusual.
We began with 64. Now we're down to eight.
As the great Chick Hearn used to say, "It's nervous time."
Only high seeds remain in the Dallas Comegys and God Shammgod regions, with four heavyweights duking it out for two Final Four spots. The other side of the bracket has been anything but true to form, with a No. 6 seed and a No. 8 remaining in the Uwe Blab region -- and scrappy No. 15 seed Bubba Day keeping the dream alive in the Ruben Boumtje-Boumtje region for Bubbas the world over.
Vote in the regional finals at the bottom of this page. This round of voting ends Monday at 10 p.m. ET. Check back Tuesday to vote in the Final Four.
• Click here to view the complete bracket and voting results