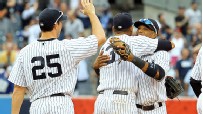 Will the Yankees win number 28?
It came down to the wire, but the matchups are finally set for the MLB postseason. Which teams will win each divisional series?
The Yankees and Phillies clinched their respective divisions before the final day of the regular season but rode two different waves into the playoffs. The Bronx Bombers have lost four straight games while the Phils have won four straight.
The Cardinals and Rays made it an interesting finish as both teams needed wins in their regular season finales and losses by the Braves and Red Sox respectively in order to clinch a wild-card berth. With hopes that the postseason will be as exciting, if not more exciting than the end of the regular season, who are your picks to wins each series? Which is the favorite to make it to the World Series?
Cast your vote now!