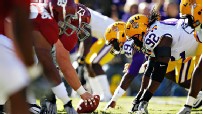 Will LSU win on the road at Alabama?
How will the upcoming week of college football unfold?
SportsNation's Week 9 record: 13-3
SportsNation's season record: 148-29
Last week's misses: Texas Tech over Iowa State (96 percent), Wisconsin over Ohio State (85 percent), Clemson over Georgia Tech (72 percent)
Last week's close calls: Stanford over USC (73 percent), Arkansas over Vanderbilt (96 percent)
Cast your votes now and watch "College GameDay" on ESPN on Saturdays at 10 a.m. ET to see which teams Lee Corso and Kirk Herbstreit think will win the following games.
For more, check out collegegameday.com and play College Pick 'Em! All games Saturday unless otherwise noted.