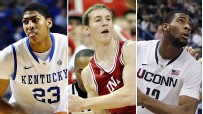 How will some of the top teams fare in the coming days?
The NFL isn't the only thing happening this weekend!
The experts from "College GameDay" will give you the lowdown on all the upcoming matchups Saturday morning, but they are curious to know which teams SportsNation is picking!
Cast your votes below and see if your opinion is the same as SportsNation's!