By Thomas Neumann
Page 2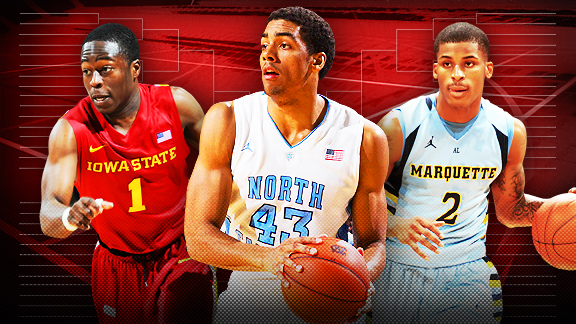 Welcome to the second round of Page 2's Coolest Name in the 2012 NCAA tournament bracket.
To review: Page 2 is entrusting you, dear readers, with selecting the coolest player name in this year's NCAA men's basketball tournament.
Our criteria for coolness are similar to how Supreme Court Justice Potter Stewart defined obscenity in 1964 -- you know it when you see it. A great basketball name should be fun to say, fun to spell or funky and unusual.
There was stunning news in the Dallas Comegys region, where the top seed, Fab Melo of Syracuse, was ruled ineligible. Sorry, but if you aren't pulling your weight in the classroom, you can't win the Coolest Name bracket. The beneficiary is No. 16 seed Austin Etherington of Indiana, who meets Iowa State's Tavon Sledge in the second round. Meantime, No. 5 seed Enosch Wolf of UConn survived a scare from No. 12 Ugo Okam of Harvard.
Over in the God Shammgod region, the results were mostly true to form. The only exception was No. 10 seed Tu Holloway of Xavier pulling a mild upset over No. 7 J'hared Hall of Loyola (Md.)
Now that our field has been whittled from 64 to 32 player names from this year's NCAA tournament field, Page 2 invites you to vote in the second round of the Coolest Name in the 2012 NCAA tournament bracket.
Vote in the Dallas Comegys and God Shammgod regions at the bottom of this page, and use the links below to vote in the other regions and check complete results.
Second-round voting ends Monday at 10 p.m. ET. Check back Tuesday to vote in the third round.
• Click here to vote in the second round of the Uwe Blab, Ruben Boumtje-Boumtje regions
• Click here to view the complete bracket and voting results