By Thomas Neumann
Page 2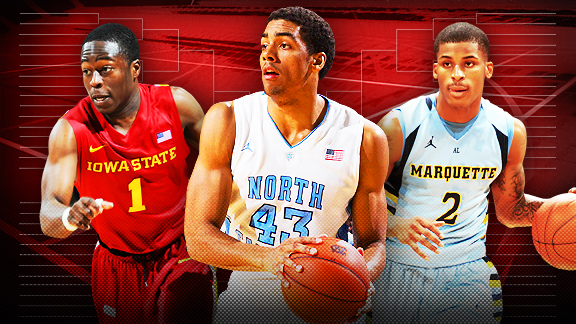 Welcome to the second round of Page 2's Coolest Name in the 2012 NCAA tournament bracket.
To review: Page 2 is entrusting you, dear readers, with selecting the coolest player name in this year's NCAA men's basketball tournament.
Our criteria for coolness are similar to how Supreme Court Justice Potter Stewart defined obscenity in 1964 -- you know it when you see it. A great basketball name should be fun to say, fun to spell or funky and unusual.
Three lower seeds advanced in the Uwe Blab region: No. 14 seed Grandy Glaze of Saint Louis, No. 10 Steve Moundou-Missi of Harvard and No. 9 Peter Pappageorge of Long Beach State.
In the Ruben Boumtje-Boumtje region, No. 13 seed Spencer Dinwiddie of Colorado upset No. 4 Jon Nwannunu of UNC Asheville, and No. 5 Tyrone Staggers of Lehigh narrowly beat No. 12 O'Karo Akamune of Western Kentucky.
Now that our field has been whittled from 64 to 32 player names from this year's NCAA tournament field, Page 2 invites you to vote in the second round of the Coolest Name in the 2011 NCAA Tournament bracket.
Vote in the Uwe Blab and Ruben Boumtje-Boumtje regions at the bottom of this page, and use the links below to vote in the other regions and check complete results.
Second-round voting ends Monday at 10 p.m. ET. Check back Tuesday to vote in the third round.
• Click here to vote in the second round of the Dallas Comegys, God Shammgod regions
• Click here to view the complete bracket and voting results