By Thomas Neumann
Page 2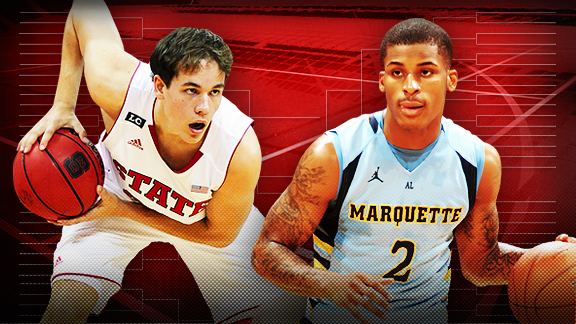 Welcome to the Final Four of Page 2's Coolest Name in the 2012 NCAA tournament bracket.
To review: Page 2 is entrusting you, dear readers, with selecting the coolest player name in this year's NCAA men's basketball tournament from our bracket of 64 candidates. The fifth-round ballot can be found at the bottom of this page.
Our criteria for coolness are similar to how Supreme Court Justice Potter Stewart described obscenity in 1964: You know it when you see it. A great basketball name should be fun to say, fun to spell, or funky and unusual.
We began with 64. Now we're down to two.
Meet our finalists:
• Vander Blue, Marquette (No. 7 seed, Dallas Comegys region champion): Blue, a sophomore, averaged 8.4 points, 4.5 rebounds and 2.6 assists in 25.7 minutes per game this season, as the Golden Eagles advanced to the Sweet 16 ofthe NCAA tournament. He led Madison Memorial High to the Wisconsin Division I state title as a junior and finished his prep career as the school's No. 3 all-time scorer.
• Staats Battle, North Carolina State (No. 6 seed, Uwe Blab region champion): Battle, a walk-on freshman, scored six points, grabbed three rebounds and earned an assist in limited playing time this season for the Wolfpack, who advanced to the Sweet 16 of the NCAA tournament. He attended Broughton High in Raleigh, where he led the team in scoring and rebounding as a senior.
Vote in the championship at the bottom of this page. Voting ends Monday at 10 p.m. ET. Check back Tuesday as we crown our champion.
• Click here to view the complete bracket and voting results