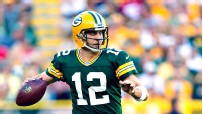 Will the Packers beat the Bears?
How will the second week of the NFL season unfold?
The Packers were upset on their home turf last week in a 30-22 loss to the 49ers. Will Green Bay redeem themselves with a win against Chicago in Week 2? The Eagles slid past the Browns with a one-point victory on the road. How will Michael Vick and the struggling Philadelphia offense fare against Ray Lewis and the Ravens' tenacious defense?
Cast your votes below and see if you're ready as the NFL regular season continues.
All games Sunday unless noted.
SportsNation's Week 1 record: 10-6