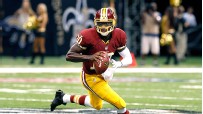 Would you take Robert Griffin III over Michael Vick?
Which fantasy football players should fans around SportsNation start, sit or trade?
Playing the general manager role of a fantasy team isn't as easy as it sounds. Making a decision on who should play each week versus who should be benched, who should be traded or kept -- well, it can be a tough call. But don't fret. Your fellow SportsNation fantasy enthusiasts are here to help.
Submit your questions to any of our weekly fantasy chats (don't forget to mention the league you are playing in -- standard scoring, PPR, etc.) and if it isn't answered in the chat, it may be chosen to be voted on by SportsNation.
The following are 10 lineup conundrums submitted by ESPN.com fantasy football players. Help your fellow fan by answering the questions below.