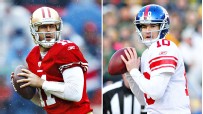 Will the Giants defeat the 49ers for the second straight time?
How will the sixth week of the NFL season unfold?
In a rematch of last season's NFC Championship Game, the Giants travel west to face the 49ers. With former G-Men Brandon Jacobs and Mario Manningham now playing by the bay, are you confident San Francisco will get a win?
The last time the Cowboys faced the Ravens, Tony Romo threw two touchdowns and was intercepted twice by Baltimore cornerback Ed Reed in a 33-24 loss. How will
Dallas fare this time around?
Cast your votes below to see how your picks compare to SportsNation!
All games Sunday unless noted.
SportsNation's Week 5 record: 10-4
SportsNation's season record: 47-31