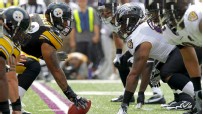 Will the Ravens win their third straight against the Steelers?
How will the 11th week of the NFL season unfold?
When the Steelers and Ravens get together, it's always the hard-hitting, ground-and-pound style of football that fans love to see. Will Pittsburgh, who was swept by Baltimore last season, keep its unbeaten home record alive with a win against its divisional rival?
The Bears and 49ers last met in 2010 in a game the Niners won 10-6. Which team will have the upper hand this time around?
How will it all shake out? Cast your votes below!
All games Sunday unless noted.
SportsNation's Week 10 record: 8-5-1
SportsNation's season record: 93-53-1