Topics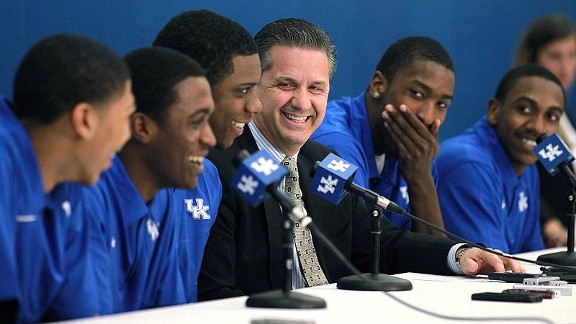 Andy Lyons/Getty Images
Time to abolish one-and-done?
Pac-12 commissioner Larry Scott thinks the one-and-done rule should be done itself. At the conference's recent football media day, Scott said the NBA rule that requires players be out of high school for a year before entering the draft threatens academic credibility. That's not a new point of view for Scott, who said similar things about the rule in 2011. He's not alone: Even John Calipari (above), whose Kentucky teams have sent several one-and-done players to the NBA, has said the rule should be changed.
Scott did not offer a specific alternative, so how do you think the one-and-done rule should be addressed? Should it be abolished entirely, allowing players to jump from high school to the NBA ? Or should the requirement be lengthened to two years? Vote below!