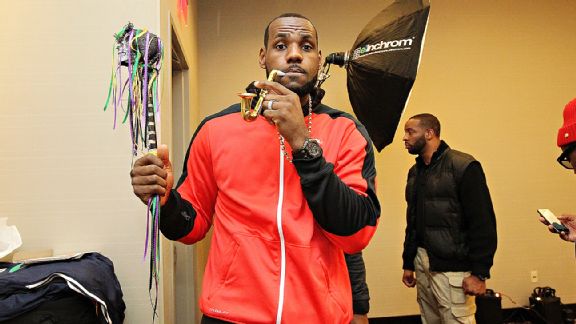 Bruce Yeung/NBAE/Getty ImagesLeBron James has a lot to do and little time to rest during the NBA's All-Star break.
LeBron James is tired. Not of criticism, or competition, or anything that normally follows that sentence -- he's just physically tired. So tired, in fact, that NBA commissioner Adam Silver said that James asked him to make the league's All-Star break just a bit longer. For a player like James, said Silver, the All-Star break isn't really a break -- it's a series of obligations that James might trade for just a day or two to rest his knees and hamstrings. Silver expects the issue will be one discussed with the players' association shortly.
Below is a sampling of the Facebook conversation on this story. Be sure and join in!
Christopher Lopez: "They grind their bodies down and are gonna be feeling the consequences of this game for the rest of their lives. Getting a few days extra rest in between a long season isn't something horrible."


Greg Mitchell: "its like the commish said, the league is asking them to do other things outside of playing basketball, and while they do make millions that shouldn't be the issue. allow them 1-2 days extra after the game on Sunday so that they can get rested for the remainder of the season."


Christopher Munoz: "They have enough breaks. Baseball players play 162 games with about 16 days off in 6 months. Basketball players get the right amount of rest in my opinion. They do play a lot of games and they actually practice but I believe it's fine. I agree for more days off during all-star break though."


Tron Miles: "Just another reason the entire regular season should be reduced by something close to 20 games. The future earning potential of sports are in tv contracts not attendance numbers. Therefore moving forward the goal should be to make each game more entertaining and a bigger event."


Mark Lukashevskiy: "Stamina and durability is part of the strategy in professional sports. Thats why its important to have depth on your team and all of the things that go with it. A longer rest in my opinion would take away a momentum from teams. And everything that was established in in the first half of the season would be insignificant."