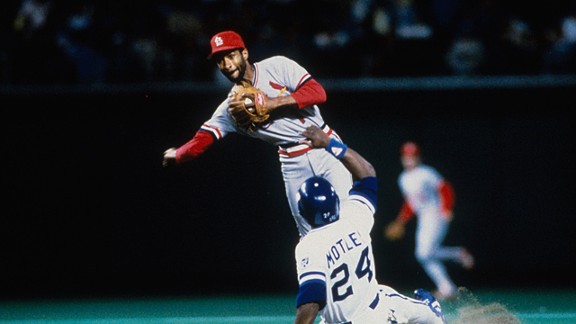 Focus on Sport/Getty ImagesOzzie Smith wants America to get MLB's opening day off from work.
Major League Baseball's Opening Day: It causes scores of people to "get sick," which of course means skip work/school to go see their favorite team take the diamond on the first day of the season. But lying shouldn't be a part of it, says Hall of Famer Ozzie Smith. The dazzling ex-shortstop is campaigning to make it a federal holiday, and is attempting to collect 100,000 signatures in 30 days, which would prompt a review by the Obama administration.
Do you agree with the "Wizard of Oz"?
Below is a sampling of the Facebook conversation on this story. Be sure and join in!
Curt Schamberger: "I love this idea. Maybe my annual stomach flu would go away..."


Kevin Rodriguez: "The Monday after the Super Bowl should be more of a holiday than opening day in the MLB should... But hey, let's get em both!"


Skyler Aitken: "I would think that the opening round of march madness (the real opening round, not the play-in games) and the monday after the superbowl would have a much higher priority for national holiday status than baseball's opening day. If it works though (which it won't) that would open the door for more sports related holidays."


Michael Tripoli: "Stop giving the government excuses to take a day off - they already have too much time off!"


Jan Rinnooi: "How about we make 9/11 a National Holiday first before we take a look at MLB Opening Day. Priorities have been lost."


Graig Earle: "The government already gives MLB a monopoly exemption, and now Ozzie wants the government to create a holiday that specifically promotes people watching MLB? Here's a better idea - Ozzie, MLB, NFL, NBA, NHL, lobby for a "National Sports Day", when everybody gets a day off to actually PLAY sports. Have all rec centres, schools, parks, gyms, heck, even pro sports stadiums and arenas etc have free open houses with impromptu games and/or mini-tournaments happening all day long."