How do you react after a loss of that magnitude? Even a late goal couldn't save Brazil from experiencing their worst loss ever, a 7-1 drubbing at the hands of Germany that saw the home team give up five goals in one brutal 18-minute stretch in the first half. There were 36.5 million people who tweeted about the match, making it by far the most-discussed sporting event on Twitter. We're not going to subject you to all of them (don't doubt that we could -- we're very powerful), so here are the best reactions we found:
Belgian striker Romelu Lukaku, who scored against the U.S. in the knockout stages, posted this photo after Brazil scored their fourth goal:
Oooh myyyy goood pic.twitter.com/uYIFJ1Mpmm

— R.Lukaku Bolingoli (@RomeluLukaku9) July 8, 2014
British comedian Russell Brand tried to see the bigger picture at 5-0:
I hope PSG kept their receipt for David Luiz.

— Russell Brand (@rustyrockets) July 8, 2014
Dirk Nowitzki, obviously rooting for Germany, became less coherent with joy as the game went on:
Jaaaaaa

— Dirk Nowitzki (@swish41) July 8, 2014
Boooooyah

— Dirk Nowitzki (@swish41) July 8, 2014
Wow

— Dirk Nowitzki (@swish41) July 8, 2014
Finaaaale

— Dirk Nowitzki (@swish41) July 8, 2014
One fan repurposed the World Cup's logo to represent Brazil's stages of grief:
How the World Cup logo was created. #worldcup pic.twitter.com/CdUGlmHCrD

— Dory Benami (@dorybenami) July 8, 2014
ESPN's own Michael Ballack celebrated in the studio once the scoring had stopped:
Updated. Michael Ballack. #BRAvsGER pic.twitter.com/Lh3ZhKRzfo

— Alexi Lalas (@AlexiLalas) July 8, 2014
At least one fan decided to blame a familiar target, although for once we don't think it was his fault:
#BlameBeiber pic.twitter.com/DO3TDQ44v2

— Dylan McGorty (@DylanMcG120) July 8, 2014
Fans in the stadium reacted in various ways, from anguished disbelief ...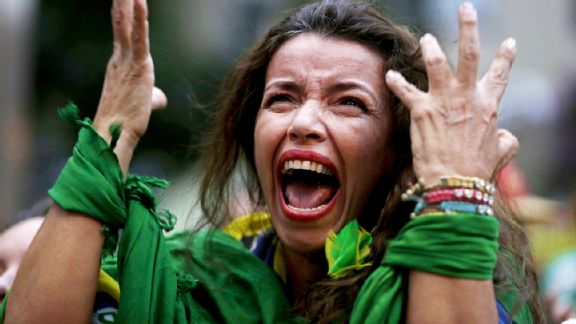 AP Photo/Bruno Magalhaes
... to clothes-rending frustration ...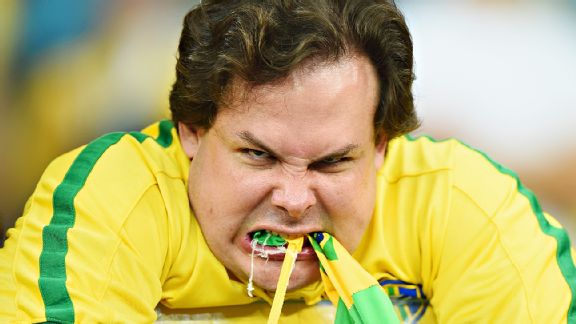 Laurence Griffiths/Getty Images
... to a kind of quiet resignation.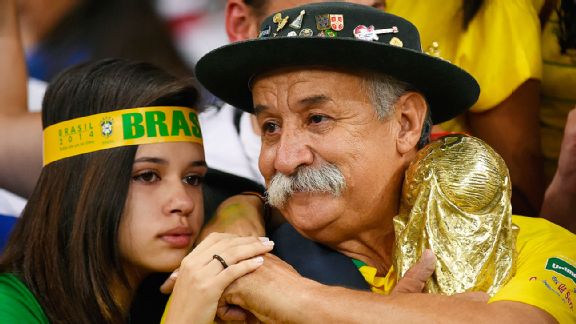 Fabrice Coffrini/AFP/Getty Images
For our money, however, the match was best-summed up by this 13-second spot by a German radio station: