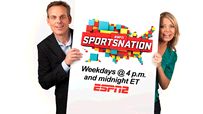 "SportsNation" on TV is finally here. Check out the big stories of the day, cast your votes and watch on ESPN2 at 4 p.m. ET!
After a weekend packed with tragic and triumphant sports news, hosts Michelle Beadle and Colin Cowherd can't wait to debate your answers to the questions below.
Vote: Would it be fun to hang out with Roger Federer?
The tennis great has 15 Grand Slam titles, untold millions and the gold-trimmed clothing, but he presents a very corporate, polished image.

Vote: Is there such a thing as a good loss?
Andy Roddick earned respect but no Wimbledon title in his epic final match against that guy in gold on Sunday.

Vote: Would you boo or cheer Manny Ramirez?
Padres fans have had their chance. The "suspension is over" tour continues this week with stops in New York and Milwaukee.

Vote: Should ESPN show more competitive eating?
For some people, hot dog buns crumbled in water and mouths crammed with food are revolting. For others, like Joey Chestnut, it's a Fourth of July tradition or lunch.

Vote: Which team is the favorite to win the Eastern Conference?
The Cavaliers made the first move, acquiring Shaq. The Magic lost Hedo Turkoglu, and the Celtics added veteran Rasheed Wallace.
Tweet: How will you remember Steve McNair?
After news of the former Titans quarterback's death came out Saturday, NFL players spoke of his competitiveness and toughness.
What is "SportsNation" TV and how do you make your voice heard on the broadcast? Read about the new ESPN show that features fan opionions with calls, tweets, polls, rankers and more.