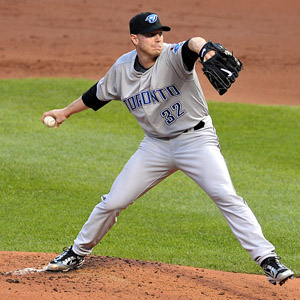 Was Roy Halladay a big winner or a big loser in the All-Star Game? The American League's starting pitcher -- sorry, Kansas City, but most of the 'Nation agreed that was the right call -- Halladay took the mound with a 2-0 lead in the bottom of the first. But the pitcher most voters would turn to with everything on the line exited with his team trailing after allowing four hits and three runs in two innings. Bad news for Doc, right? Sure, if you're not a savvy, card-carrying conspiracy theorist.
Half of SportsNation expects Halladay to finish the season in the National League, presumably with a contending team that pays a hefty price to acquire him from the Blue Jays and whose name rhymes with "Schmillies."
So wasn't it really in Halladay's best interests for the National League to win the game? Too bad Carl Crawford and those meddling kids with the Mystery Machine foiled the plan. Check out that snag and other Web Gems from St. Louis below.
"

I still think Mauer should have gotten the MVP. Not only did he get a hit, a double, he drove in the RBI that tied the game and he scored as well in the 1st. Plus he called the pitches for 5innings.

"

-- anubis679
"

God, this was getting old 12 years ago...... NL for the love of everything thats holy!!!

"

-- mets4life1999
"

Charlie Manuel calling for the intentional walk did't seem "exhibition" to me. Heath Bells boiled over reaction didn't seem "exhibition" to me. Curtis Granderson hustling out a triple when he could have just taken the exhibition game double didn't seem "exhibition" to me. Lastly, the up in arms frustration over the AL winning again shows people get a little more tense over this than an exhibition game.

"

-- kanebowman