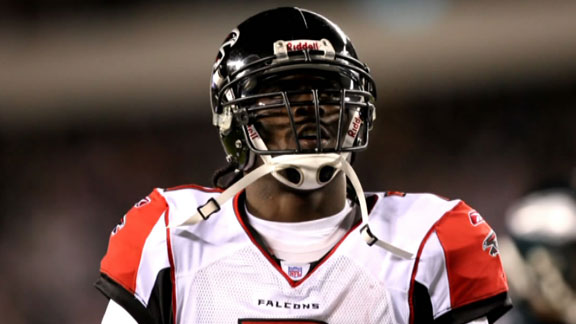 Monday brings good news for Michael Vick. And it's not just that SportsNation is overwhelmingly less tired of his story than Brett Favre's ongoing epic.
Vick was released from federal custody Monday after serving 23 months, including the last two under home confinement, following a conviction on federal dogfighting charges. The latest move at least theoretically mean Vicks is ready to return to the football field, although that will only happen in the NFL when accompanied by Roger Goodell's blessing from up on high (not literally, assuming he made it down from Mount Rainier).
A month ago, SportsNation expected Goodell to rule on Vick before the start of the regular season, but there's still no timetable on a meeting between the two. For their part, voters are ready to see him back in action on the gridiron. Although like building nuclear power plants, more than a few would prefer if it wasn't in their backyard.
"

I'm so glad he's now free. I'll be even happier hearing the boos and cheers once he takes the field for the first time in 2 years

"

-- tjdixon81
"

Its funny how Vick is all of a sudden "so-so" as a QB... well what about Matt Leinhart, Vince Young, Jamarcus Russell, Alex Rogers, Shaun Hill, Jason Campbell, Jay Cutler, Phillip Rivers and all the "top ranked" collegiate QBs.... None of these guys came close to doin what Vick did in the NFL

"

-- AtlSouthside