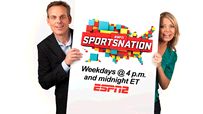 Michelle Beadle and Colin Cowherd climb the mountains and chase down the breakaways to bring you "SportsNation" TV.
Discuss the hot topics, vote on the biggest stories of the day and chat during the show on ESPN2 at 4 p.m. ET. And if you miss that, there's a second helping of "SportsNation" on ESPN at 5 p.m. ET.

Do you still want to see the tape of LeBron getting dunked on?
Has time dulled your desire to see the footage that Nike confiscated of Jordan Crawford dunking on LeBron?
Is Kobe playing for Team USA in 2010 and 2012 a good idea?
Kobe has a gold medal and NBA title in the same year, and he isn't getting any younger. He can help the U.S. maintain supremacy, but what about the Lakers?

Do you prefer youth or experience at running back?
Chargers RB LaDainian Tomlinson is now the wily veteran, but the NFL is notorious for using up backs by the time they reach their 30s.
Whom would you rather have replace your quarterback?
Michael Vick brings fresh legs but the rust of an NFL layoff. Brett Favre has years of success but an aging body and shoulder.

Which is a better option for Stephen Strasburg right now?
Scott Boras isn't afraid to hold players out if they don't get the deal he says they deserve. But what if a big-name prospect gets injured playing this game?

And our final question ...
A recent theory in the running world proposes that running without shoes is better for you. Would you consider running barefoot?
What is "SportsNation" TV and how do you make your voice heard on the broadcast? Read about the new ESPN show that features fan opinions with calls, tweets, polls, rankers and more.