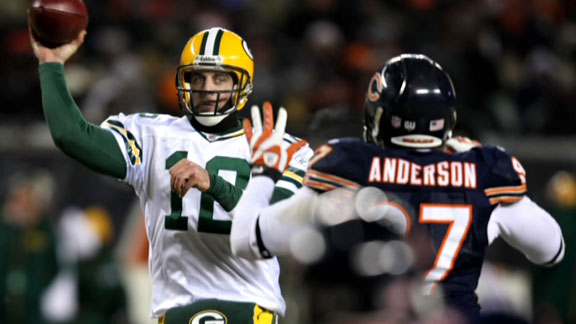 Who needs Brett Favre? If the Vikings would just take SportsNation's advice and sign Michael Vick, the NFC North would have the most compelling collection of quarterbacks this side of the Big 12. Even without Vick or Favre in Minneapolis, a division that threatened at times in recent seasons to set the forward pass back a decade looks armed and ready.
Aaron Rodgers quietly got the revolution going last year with 28 touchdown passes in his first full season as a starter, and now Jay Cutler and Matthew Stafford (or a potentially revitalized Daunte Culpepper) are set to join the fray. Sure, maybe that's putting a rosy spin on a division that produced an 0-16 team last season. For that matter, the three other teams managed just a 13-17 record outside the division. But it could be worse; it could be the NFC West.
As for the team with the dueling weak links under center, SportsNation is showing some lukewarm support for Tarvaris Jackson. Back in April, a healthy majority said he wasn't part of the team's present or future. Fast forward a few months and voters give him the nod over Sage Rosenfels, even if that's not exactly a ringing endorsement of his potential.
"

Rosenfels is actually a pretty decent QB, if they can just get him to stop throwing the ball to the other team. His career QB rating is actually higher than Mike Vick's (81 vs. 75).

"

-- daphins23
"

I think Sage will be the guy...as long as he doesn't try any flying acrobatics I think he will be a serviceable QB for the Vikings.

"

-- debakes10
"

I still think it is a 3-way for the NFCN title. I don't think the Lions are going to lie down for anyone either. Sweeping Detroit isn't going to be like it has been. The team(s) that splits with them may be the odd-man-out for the title.

"

-- PckrBckr73