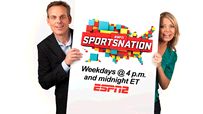 Michelle Beadle and Colin Cowherd didn't make the 2003 MLB list, but if they find it, they'll check it twice before talking about it on "SportsNation" TV.
Look for pumped up sluggers, argue the hot topics, vote on the biggest stories and chat during the show, on ESPN2 at 5 p.m. ET.
Do the reported positive PED tests taint Boston's World Series titles?
David Ortiz and Manny Ramirez reportedly are on the list of players from 2003. Of course, the Red Sox aren't the only team to win with players later implicated.
Should the entire 2003 list of MLB players who tested positive for performance-enhancing drugs be released?
Fans are clamoring to see who else pushed the league toward more stringent testing. They just hope their heroes aren't on it.
Has Plaxico Burress become a sympathetic figure?
The ex-Giants receiver threw himself in front of the New York grand jury that is considering whether to indict him on weapons charges.
Can the Lions exorcise their demons in 2009?
A Lions fan recently performed an ''exorcism'' for his team. Will that help the defense tackle and give Matthew Stafford more time to throw?

Will an American ever be the best soccer player in the world?
So many of the best athletes in the United States play football, baseball and basketball. Will a LeBron James of soccer ever emerge here?
And our final question ...
Brett Favre retired. Or did he? He's not playing for the Vikings. He's not playing for the Jets. He's not playing for the Packers. Anybody else interested?
What is "SportsNation" TV, and how do you make your voice heard? Read about the new ESPN show that features fan opinions with calls, tweets, polls, rankers and more.