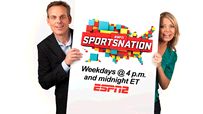 Michelle Beadle and Colin Cowherd still have their best days ahead of them, as they will highlight today on "SportsNation" TV.
Argue the hot topics, vote on the biggest stories and chat during the show, on ESPN2 at 4 p.m. and midnight ET.
Note: Broadcast voting results as of afternoon ET.

Should Yankee Stadium host a bowl game?
Notre Dame and Army may not be the only college football teams to play in the new Yankee Stadium. Is hosting a bowl game a good idea?
Can you withstand a kick to the face?
Of all the places to be kicked, the face isn't high on our list. But maybe we're just not as tough as SportsNation. If a MMA fighter can do it, so can you, right?
Did Prince Fielder break baseball code?
Charging the mound is one thing but charging the clubhouse is another. Did Fielder cross the line by going after Guillermo Mota after the game?
Which holiday sporting event do you prefer?
Football and turkey. Basketball and presents. Sports and holidays seem to go hand-in-hand. But which is better? NFL on Thanksgiving or NBA on Christmas?
Are Reggie Bush's best days behind him?
For some, this question was worth asking the day Bush was drafted into the NFL. But here in SportsNation we like to give people a little longer to prove themselves. Having said that, is Bush on the downslide?
What is "SportsNation" TV, and how do you make your voice heard? Read about the new ESPN show that features fan opinions with calls, tweets, polls, rankers and more.