It's never a good sign when the award you're going for is a sculpted smack in the face to what you do. But such is the lot of defensive players in college football, forced to chase a Heisman Trophy that offers naught but a stiff-arm taunt toward their very existence. And if SportsNation's rankings and ESPN.com Heisman Watch are any indication, neither USC safety Taylor Mays nor Tennessee safety Eric Berry will follow in Charles Woodson's footsteps.
Dashed Heisman hopes aside, Mays and Berry may be the two best defensive players in the country (although you'll get plenty of argument from the likes of Florida linebacker Brandon Spikes). It's an embarrassment of riches at a position that often gets overlooked. Then again, even buoyed by the stardom Ed Reed and Troy Polamalu have found in the NFL, only about a quarter of SportsNation would rather have a great defensive back than a great receiver in the college game.
The mission is clear for Mays and Berry. Convert the masses.
"

don't be surprised to see someone in SC's back 7 win some type of award this year. Not just because they go to SC, but the pass rush is going to be vicious this year. Sacks and turn overs are gonna be way up this year for that D and it's going to make everyone a hell of a lot better.

"

-- probinson1us
"

ERIC BERRY IS THE BEST DEFENSIVE PLAYER....HE IS THE BEST PLAYER ON THE FIELD...HE COULD BE JUST AS GOOD IF HE WAS A WR....RB...HE HITS LIKE A LINEBACKER....RUNS LIKE A DEER.....ALL AROUND STUD!!!!!!!!!!!!GO VOLS!!!!!

"

-- LANETRAIN09
BEST OF THE BEST
Revis vs. Ware?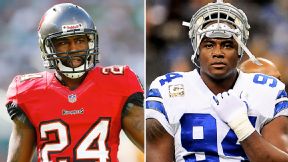 Which player has a brighter NFL future: Darrelle Revis, or DeMarcus Ware? Vote! »