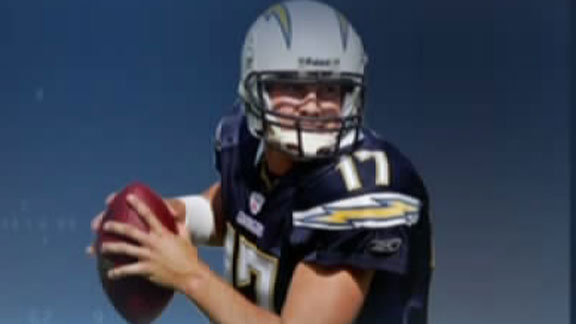 When you hand a quarterback $92 million, including more than $30 million guaranteed, to stick around for the next six years, it seems safe to assume you think he's better than, say, Craig Whelihan. Just a purely hypothetical example, of course. But no matter what Philip Rivers does, short of winning multiple Super Bowls and perhaps coming out of the bullpen for the Padres, it feels like he's going to spend his whole career losing comparisons.
SportsNation has consistently ranked Rivers as a top-10 quarterback, as befits a guy who led the league in passer rating last season. The only problem is three of the guys often ranked ahead of him: Drew Brees, Eli Manning and Ben Roethlisberger. Brees, of course, is the guy the Chargers traded when they needed to make room for Rivers, whom they acquired during the 2004 draft when Manning made it clear he didn't want to play in San Diego (all with Roethlisberger still on the board).
Rivers is always going to be compared against Manning and Roethlisberger, but the Brees comparison is more intriguing, considering they actually had both guys on the roster. Would you rather have Brees, 30, or Rivers, 27, if you were planning for the next six seasons?
"

I shed tears of pain when we selected Manning and tears of joy when we traded for Rivers. Phillip has the passion and skills needed to be a top 3 league qb for years and years to come. He may only run a 8 second 40m but i'll take him over anyone in the league besides brady and the p. manning. I am one seriously excited Charger's fan right now

"

-- JBen2120
"

This guy is immature and simply not that good. But then again, San Diego management is completely incompetent.

"

-- TorreroX
"

Dude, it's fine if you don't like Rivers, or if you like your QB better, but to say that the leading QB in all but one significant statistical category last year (AND a QB who lead his team to several come-from-behind wins, and won what amounted to 4 straight do-or-die games, and who has very good career statistics, and who has a 2/3rds winning percentage, and who has never lost a game in December that he's started...should I go on?) is a crap quarterback is just pure ignorance.

"

-- jawlz