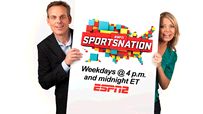 Michelle Beadle and Colin Cowherd have been getting their first serves in even when they're not hitting aces on "SportsNation" TV.
Argue the hot topics of the day and vote on the biggest stories from the world of sports. The show airs on ESPNEWS at 4 p.m. and ESPN2 at midnight ET.
Note: Broadcast voting results as of this afternoon (ET).

Who delivers better butt kickings?
Rambo is the unloved, face-painted military machine, but Rocky doesn't need any weapons other than two fists (and an occasional slab of raw meat).
Which is a worse offense in baseball?
Does the Hall of Fame argument really come down to Pete Rose versus the steroid era? Or is one form of cheating no different than the other?
Does having a big ego help or hurt a wide receiver?
It takes supreme confidence to go across the middle and make a catch knowing a linebacker is waiting to rip you in half.

Which fantasy WR would you rather have?
Anquan Boldin had 89 receptions for 1,038 yards and 11 TDs last season. Roddy White had 88 catches for 1,382 yards and seven touchdowns.
Was the booing of Jay Cutler in Denver justified?
Expected? Yes, that's what fans do when a guy who forced the team's hand returns. But was it his fault the new coach doubted his starting ability?
What is "SportsNation" TV, and how do you make your voice heard? Read about the new ESPN show that features fan opinions with calls, tweets, polls, rankers and more.