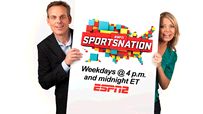 Michelle Beadle and Colin Cowherd would play in the horn section of your school's marching band on "SportsNation" TV if it would get college football season to start tomorrow.
Argue the hot topics of the day and vote on the biggest stories from the world of sports. The show airs on ESPNEWS at 4 p.m. and ESPN2 at midnight ET.
Note: Broadcast voting results as of this afternoon (ET).

Who gives better fantasy football advice?
When you're trying to decide whether to pick up a third-string RB, do you turn to Colin Cowherd or Ashton Kutcher, who has a fantasy show on Ustream?
Should Brett Favre ever line up at wide receiver?
After his crack-back block on Texans safety Eugene Wilson, maybe the Vikings quarterback should consider giving defensive backs the chance to answer back.
Which running back would you most want on your fantasy team?
Brian Westbrook (1,338 yards and 14 touchdowns combined in '08), Clinton Portis (1,487 yards and nine touchdowns rushing) or Brandon Jacobs (1,089 yards and 15 touchdowns rushing)?
Should the NFL change its blackout policy?
Times are tough and fans are hurting, but teams that fail to sell out home dates still have those games blacked out in local markets.
Which team is better set up for success in the coming decade?
The Pats have the upper hand in hardware. Both the Patriots and the Colts have veteran superstar quarterbacks looking to come back at full speed. Both have coaching turnover.
What is "SportsNation" TV, and how do you make your voice heard? Read about the new ESPN show that features fan opinions with calls, tweets, polls, rankers and more.