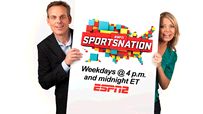 Michelle Beadle and Colin Cowherd always shake hands before stepping on the set of "SportsNation" TV.
Argue the hot topics of the day and vote on the biggest stories from the world of sports. The show airs on ESPNEWS at 4 p.m. and ESPN2 at midnight ET.
Note: Broadcast voting results as of this afternoon (ET).
Would you let Shaq spank you on your birthday?
In a hands-on interview, Shaq administered the birthday spanking for radio host "Money" from the "Petros & Money Show."

Should LeGarrette Blount be kicked off the Oregon football team?
Replays of the Oregon running back's punching Boise State linebacker Byron Hout after the Ducks' loss will be shown all season.
Are the Eagles too consumed with Michael Vick?
He'll be eligible in Week 3. In his final preseason game, Vick ran for a 2-yard touchdown, was sacked four times, lost a fumble and was intercepted.
Should Oklahoma State and Georgia shake hands before their football game?
The Cowboys won't have a team handshake with the Bulldogs, citing concerns about incidents that might erupt during the display of sportsmanship.
What do you think of Tiger Woods' criticism of Ernie Els?
Els said he had a three-year plan for dethroning Tiger but hasn't won in his past 41 tournaments. Tiger said his opponent hasn't worked hard enough.
What is "SportsNation" TV, and how do you make your voice heard? Read about the new ESPN show that features fan opinions with calls, tweets, polls, rankers and more.