September 16, 2009
Sep
16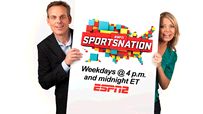 Michelle Beadle and Colin Cowherd call the plays from the sidelines and aren't afraid of audibles during "SportsNation" TV.
Argue the hot topics of the day and vote on the biggest stories from the world of sports. The show airs on ESPN2 at 4 p.m. and midnight ET.
Note: Broadcast voting results as of this afternoon (ET).
How would you rate the Yankees-Jays brawl?
Jorge Posada bumped Toronto reliever Jesse Carlson after crossing home plate. They exchanged words, and the benches cleared.
Could you swim faster than Shaq?
Shaq actually beat Michael Phelps in one of three races (although he swam shorter distances than the Olympian). You get to choose the swimwear.
Will the crowd at the new Cowboys Stadium affect the Giants?
Jerry Jones wants to open his new stadium with more than 100,000 fans. Will they bring the noise or be too busy watching the giant TV?

What do you think of fan vandalism?
The front lawn of a home belonging to cornerback Leodis McKelvin was vandalized following Buffalo's season-opening loss to New England.

Which would you rather wear around your house?
Bill Belichick's hoodie has that casual, day-on-the-sideline appeal, but the Snuggie is warm, cozy and screams, "Home!" with those sleeves.
What is "SportsNation" TV, and how do you make your voice heard? Read about the new ESPN show that features fan opinions with calls, tweets, polls, rankers and more.