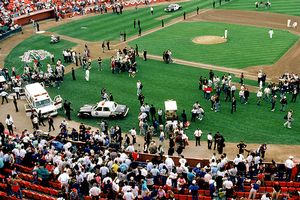 On Oct. 17, 1989, the San Francisco Bay Area was struck by an earthquake of magnitude 7.1 on the Richter scale. Sixty-three people died, and more than 3,700 were injured. A section of the upper deck of the Bay Bridge collapsed, as did sections of the Cypress Street Viaduct. The Bay Area suffered an estimated $6 billion in damage.
The earthquake hit at 5:04 p.m. Pacific Time. At that moment, ABC was broadcasting live from Candlestick Park, where the Oakland A's and San Francisco Giants were warming up for the third game of the World Series. That meant viewers around the world saw the initial earthquake strike live, but ABC was knocked off the air before the tremor ended. ESPN went on the air 18 minutes later. Other national networks also began broadcasting live. The stadium was evacuated, and the series was postponed for 10 days.
Sunday on "Outside the Lines," ESPN's Bob Ley will take viewers back nearly 20 years to that day, telling the stories of what happened and sharing sports figures' memories of the natural disaster.
ESPN would like to hear your story, your remembrances of where you were and what you were doing the moment the earthquake struck. Share them in the comments below.