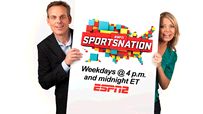 Michelle Beadle and Colin Cowherd are prepared to pitch on three days' rest for "SportsNation" TV.
Argue the hot topics of the day and vote on the biggest stories from the world of sports. The show airs on ESPN2 at 4 p.m. and midnight ET.
Note: Broadcast voting results as of this afternoon (ET).
Would you perform better at work if Michael Jordan were around?
His Airness is an inspirational, honorary assistant to U.S. captain Fred Couples during the Presidents Cup in San Francisco. He's also smoking cigars.
Is Brett Favre the most overrated player in the NFL?
He owns many quarterback records but only one Super Bowl ring. No other quarterback gets more media love and mixed reaction from fans.
Is Lance Armstrong's endorsing beer a good or bad idea?
The seven-time Tour de France winner, who spends much of his time advocating for cancer research, will be the spokesman for Michelob Ultra.

Which fan base made out better with its team's WR addition?
On the same morning the 49ers finally signed first-round draft pick Michael Crabtree, the Browns traded Braylon Edwards to the Jets.

How will Alex Rodriguez fare in the first round?
A-Rod's reputation in the postseason isn't positive in New York, but a 27th title would change everything. He hit 30 homers and drove in 100 runs this season.
What is "SportsNation" TV, and how do you make your voice heard? Read about the new ESPN show that features fan opinions with calls, tweets, polls, rankers and more.