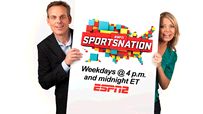 The battery of Michelle Beadle and Colin Cowherd has a better ERA during the afternoon episodes of "SportsNation" TV.
Argue the hot topics of the day and vote on the biggest stories from the world of sports. The show airs on ESPN2 at 4 p.m. and midnight ET.
Note: Broadcast voting results as of this afternoon (ET).
If he trained, would LeBron be a better WR than Braylon Edwards?
You've seen the LeBron in a Browns uniform commercial. You've seen Edwards traded away. Now complete the Cleveland fantasy football picture.
Whom would you pick first for a playoff series?
Derek Jeter had a clutch HR to start the Yankees' postseason scoring. Albert Pujols was intentionally walked anytime the Dodgers saw danger.
Are the Red Sox in the Angels' heads?
The Angels have lost 12 of their past 13 postseason games against the Red Sox. "Last year was last year," said Torii Hunter when asked about it.

Does toughness run in families?
Eli Manning missed practice for a second straight day. Will he play against the Raiders? Dad Archie and brother Peyton have been known to play hurt.

Does Braylon Edwards make the Jets a serious Super Bowl contender?
Edwards, wearing a white No. 17 Jets jersey, caught passes from rookie Mark Sanchez and backups Erik Ainge and Kevin O'Connell in drills Thursday.
What is "SportsNation" TV, and how do you make your voice heard? Read about the new ESPN show that features fan opinions with calls, tweets, polls, rankers and more.