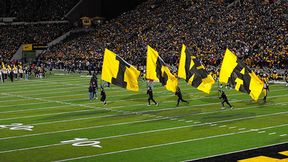 Iowa fans like shuman346 should beware. When your team reaches this point in the season undefeated, every blogger starts eyeing it as a potential upset victim.
In addition to Hawkeyes-Badgers, fans who blogged about football this week are looking forward to the Sooners-Longhorns and Trojans-Irish rivalry games this weekend.
On sideline topics, Florida State did nothing to quiet the debate between the camp that believes Bobby Bowden's record speaks for itself and those who ask what the Seminoles coach has done lately for the team's win-loss record.
These are the best college football fan blogs of the week. Click through to comment, disagree and discuss your favorite teams.
Week 7 predictions: RollFreakinTide37 | BrookBerringer18 | I am Ron Burgandy | gbirkem2 | TheSwingingFriar | Sportsguru6 | IdahoanTyke | TheVols2k7
Rankings (with No. 1 team): pnthrsfn1012 (Florida) | canesinla (Florida) | C.UngureitJr (Alabama) | TheVols2k7 (Alabama) | Yodaman0420

"

Wisconsin over No. 11 Iowa. Let's face it, has Iowa really proved themselves this year? Wisconsin at home in my mind is an easy pick.

"

-- gbirkem2

"

Now, I'm gonna break down the men I think should lead Florida State University: 1. Jim Leavitt; 2. Tommy Tuberville; 3. Kevin Sumlin; 4. Jimbo Fisher.

"

-- malcolmpar

"

When life gives you lemons, you make lemonade. When Jimmy Clausen gives you lemons, you thank him and walk away slowly.

"

-- I am Ron Burgandy