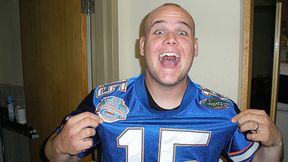 Never mind that games yet to be played will determine who is in the BCS bowl games. The release of the first standings unleashed a torrent of opinions among college football fans.
The biggest complaints came from Iowa fans and those who argue that Boise State, Cincinnati or both are overrated.
"How is Boise State ahead of Iowa with that cupcake schedule?" wrote droste23. "I thought strength of schedule counted. Guess not. Iowa with wins AT Penn State, AT Wisconsin, Michigan. Laughable. If Iowa was Ohio State or Texas, with the exact same schedule, they'd be ranked probably No. 2."
Here's a sampling of opinions from fans of the Top 5 teams.

"

Bama and Florida have more games to play yet, so while we have dueling No. 1s the argument will rage on. I personally don't care for speculation. They'll settle it on the field if things work out.

"

-- u_gator

"

I'm just making my case for Bama here. To me, Florida is clearly No. 2 and I almost believe they should leave No. 3 blank. There is that much of a difference between the next best teams (Iowa and then Texas).

"

-- theballguy

"

Texas-Florida in BCS Championship Game. Colt McCoy doesn't deserve the Heisman. Tim Tebow can have that as an advance consolation prize for losing to Texas on Jan. 7 in Pasadena.

"

-- johnznash

"

Finally some respect. We are No. 4 because we are consistent winners. Look at the facts: Broncos' decade of dominance. ... We can beat any team any given Saturday. Don't hate us; hate the system.

"

-- boisestate42

"

Boise ranked over Cincinnati? You have to be kidding! I guess being in a BCS conference doesn't mean much. ... They limped this week against Tulsa, while Cincinnati dominated a 21st ranked South Florida team even after Tony Pike was injured. P.S. Who is this Brian Kelly guy anyway? Notre Dame doesn't deserve him.

"

-- Bobnance13
To respond with your own blog, sign in or create a profile and start posting.