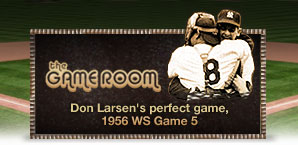 Baseball's postseason history is chock-full of legendary performances, mysterious happenings, amazing plays and epic failures. Now, for the first time, fans can vote on the players, coaches, teams and moments that have stood out the most over countless Octobers as part of ESPN.com's Hall of Fall.
It's difficult to get much better than perfect, and our vote reflected that, as Don Larsen's perfect game becomes the first induction into the Hall of Fall's Game Room. Larsen took almost half the vote, despite good support for Jack Morris' 10-inning shutout by every state from Minnesota to Montana. Missouri, unsurprisingly, favored Bob Gibson's 17-K 1968 World Series Game 1.
Note: The ESPN research team of Mark Simon, Mike Lynch, Dan Braunstein, Greg Dohmann, Gregg Found, Jeremy Lundblad, Justin Havens, David Schoenfield and Rob Neyer contributed to this project.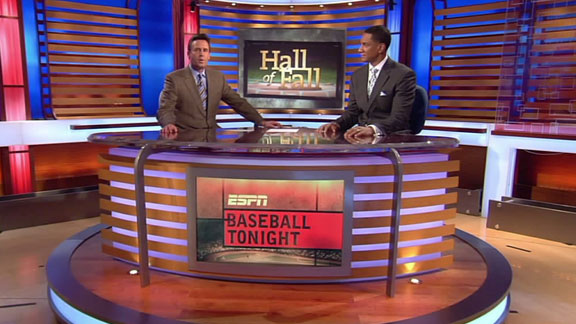 Don Larsen, Yankees -- Perfect game in Game 5 of 1956 World Series: (WINNER) The only perfect game (or no-hitter) in postseason history is even more impressive when you consider that the Dodgers' lineup featured four future Hall of Famers. Larsen fanned seven and didn't need more than 15 pitches in any inning of a 2-0 win that gave New York a 3-2 series lead.



Bob Gibson, Cardinals -- 17-K performance in Game 1 of 1968 World Series: After a regular season that would garner him NL Cy Young and MVP honors, Gibson fanned 17 Tigers (a postseason record) in a five-hit shutout. Gibson ended the game by striking out three straight Detroit batters -- cementing his reputation as one of October's all-time clutch pitchers.



Reggie Jackson, Yankees -- 3 HRs in Game 6 of 1977 World Series: Any performance that earns you a nickname like "Mr. October" deserves a place on this list. Reggie went deep off three different Dodgers pitchers -- all on the first pitch of the at-bat -- in the series-deciding 8-4 Yankees' win. It was all part of an epic World Series by Jackson (.450 BA, 5 HR, 8 RBIs) that earned him MVP honors.



Jack Morris, Twins -- 10-inning shutout in Game 7 of 1991 World Series: Morris owns the only World Series-clinching shutout of more than nine innings, going all 10 innings in the Twins' 1-0 win over the Braves. Morris threw 126 pitches but retired the side on just eight pitches in both the ninth and 10th innings.
Roger Clemens, Yankees -- 15-K, 1-hit shutout in Game 4 of the 2000 ALCS: Larsen had his perfect game and Gibson struck out more batters, but Clemens pitched perhaps the most dominant game in postseason history. He allowed only one hit, Al Martin's seventh-inning double that glanced off the tip of Tino Martinez's glove.