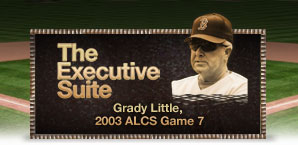 Baseball's postseason history is chock-full of legendary performances, mysterious happenings, amazing plays and epic failures. Now, for the first time, fans can vote on the players, coaches, teams and moments that have stood out the most over countless Octobers as part of ESPN.com's Hall of Fall.
Grady Little's fateful decision to leave Pedro Martinez in Game 7 of the 2003 ALCS has stuck in SportsNation's mind as the most worthy inductee to the Hall of Fall's Executive Suite. No other option received truly serious consideration, though fans did give a nod to both Connie Mack and Mike Scioscia for their ultimately beneficial managerial moves.
Note: The ESPN research team of Mark Simon, Mike Lynch, Dan Braunstein, Greg Dohmann, Gregg Found, Jeremy Lundblad, Justin Havens, David Schoenfield and Rob Neyer contributed to this project.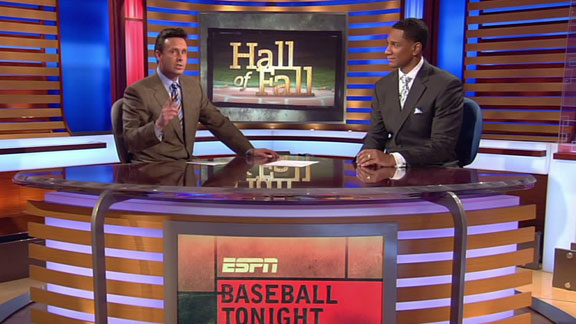 Hornsby goes to Alexander (1926 World Series Game 7): There are multiple accounts regarding Rogers Hornsby's decision to bring Pete Alexander in relief with the Cardinals up a run on the Yankees, the bases loaded with two outs and Tony Lazzeri up in the seventh. Alexander had pitched nine innings the day before and was known for celebrating hard after victories, but he rewarded his manager's faith, striking out Lazzeri and holding the Yankees scoreless the next two frames.


Connie Mack starts Howard Ehmke (1929 World Series Game 1): The Philadelphia A's manager made the strangest Game 1 starting pitcher decision in World Series history, going with the little-used 35-year-old vet over 20-game winner Lefty Grove. But Ehmke had personally scouted the Cubs and his sidearm slow stuff baffled them to the tune of 13 strikeouts and a 3-1 victory. It was the final win of his career..



Mayo Smith plays Mickey Stanley at shortstop (1968 World Series): The Tigers had a great team in '68 but one big problem: Shortstop Ray Oyler hit .135 and his backups not much better. So late in the season Smith moved his Gold Glove center fielder to shortstop and returned a healthy Al Kaline to the outfield. Stanley handled short, Kaline hit .379 in the World Series and Detroit won in seven games.



Mike Scioscia turns to Francisco Rodriguez (2002 playoffs): Rodriguez would become one of baseball's elite closers, but in 2002 he was a hard-throwing 20-year-old with just five innings of major league experience. But Scioscia had the guts to go with a hot hand and K-Rod, setting up Troy Percival, won a record-tying five postseason games as the Angels won it all.
Grady Little stays with Pedro (2003 ALCS Game 7): (WINNER) Moments after Game 7 of the 2003 ALCS, Grady Little knew his fate. The decision that haunted Little's tenure was keeping Pedro Martinez in the game (instead of turning to relievers Mike Timlin, Scott Williamson and Alan Embree, who had allowed two earned runs in 22 2/3 postseason innings) as the Yankees staged an epic rally in the eighth inning to tie (and win, of course, on Aaron Boone's home run).