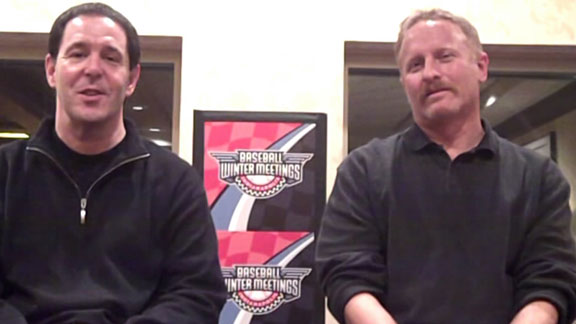 Unless you're a diehard Tigers fan or savored his occasional postseason television work (or his blog), chances are you're hearing a lot more about Curtis Granderson this week than, well, ever before. Granderson, who hit 30 home runs for the Tigers last season, is apparently on the verge of heading to the Bronx in a three-team deal to either replace or join free agent Johnny Damon.
The NFL may be king in this country, but when it comes to offseason interest, SportsNation says MLB is on equal footing with its gridiron peer. And that leads to an obvious question. With seemingly so few teams actually in contention to win once pitches start being thrown, is baseball's hot-stove season actually more interesting than its regular season?
And for those looking for a little more insight on Granderson, we're here for you. If by insight, you mean his Wrestlemania memories and favorite foods. If you insist on the baseball stuff, Keith Law chats Thursday at 1 p.m. ET.
Craig (Norwich, CT)
I've been a big fan of yours ever since I found out that you are a pro wrestling fan, and I was just wondering how much fun WrestleMania 23 really was. It must have been such a great time.
Curtis Granderson

I got a chance to sit ringside. To be there in front of 80,000 people and be inches from the whole show, was one of the best times I've had. It didn't stop from the start to the end. They delivered and satisfied the whole time. Full transcript from April 13, 2007
Jeffrey (Rochester)
What's your favorite thing to do on a road trip? Do you have any spots in certain cities that you have to visit?
Curtis Granderson

The food in every city, I look forward to. KC for the ribs, Seattle for the fish and chips. Chicago for the pizza. Baltimore for the crab cakes. My big thing is getting the food that a city is known for. I love to eat. Full transcript from April 13, 2007