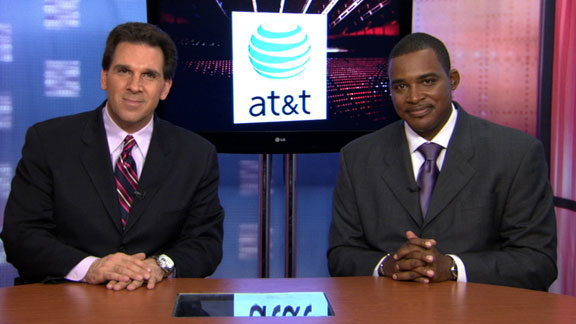 Dollar Stores. Super 8 Motels. The Six Million Dollar Man. We get that names involving numbers aren't always accurate to the last decimal. But if the Big Ten is going to expand to 12 teams, we need to come up with a new name. And we're pretty sure the Big 12 is taken.
Not surprisingly, Big Ten expansion is a hot topic in SportsNation blogs.
"The University of Chicago will remain as the school "where fun comes to die" and will not return to Division I athletics. The University of Notre Dame needs more time to rebuild, and if it were asked to join, ND would merely become the Big Ten's Catholic counterpart to Indiana. This would not improve the Big Ten's current reputation as underachievers on the national gridiron. ... Also, given its location near the Ohio border, Pitt would add to the legitimacy of Penn State's membership in a conference otherwise based entirely in the Upper Midwest." -- Read GMU_OSU_Fan's full post.
"I do like the idea of the Big Ten adding another team. However, I would like that team to be Notre Dame ... or forget it. I think a Big 12 team (save Iowa State) would bring something to the table, as well, i.e. Missouri. But aside from the fact that they won't come to us, Mizzou is a bit too far away." -- Read nunyabiz81's full post.
Andrew (Nashville)
Let's play conference dominos! If the Big 10's newly announced expanision takes a Big East team, who joins the Big East? If they take Missouri, does the Big 12 replace them with T.C.U.?
Graham Watson

That's what I was telling Adam Rittenberg yesterday. It seems like the logical move. Full transcript
Paul (Dothan, AL)
I've been hearing how the Big 10 wants to expand to 12 teams. How would that affect conference realignment in the Non-AQ conferences?
Graham Watson

It just depends who it is. If it's Pitt, then probably East Carolina or Southern Miss would be a favorite to go to the Big East. If it's Missouri, then maybe TCU heads to the Big 12... So yeah, the non-AQs would be affected in some way. With C-USA, it might present an interesting opportunity for a MAC team to move to C-USA and put the MAC back at 12 teams. Full transcript