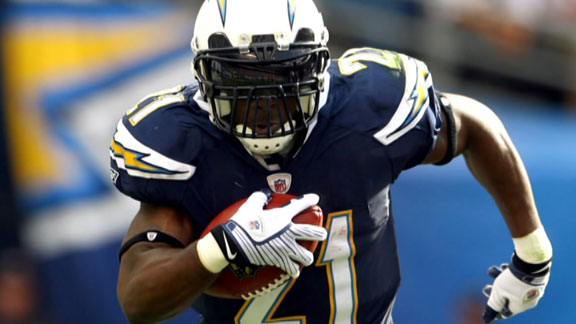 We all saw this one coming. In the most shocking news of the day that was pretty much expected sooner or later, the Chargers have released 30-year-old LaDainian Tomlinson after nine seasons with the team.
Does the NFL's single-season TD record holder still have anything left in the tank? Would you want your team to take a chance on him as its feature back? And which team is the most logical next destination for LT? Vote and discuss below!
"

This is not going to help San Diego in the short term. I am a big fan of Sproles, but no way he can handle the entire load of an NFL season. In a complimentary role, LT still has a lot to offer and could help the right team make a deep play-off run ...

"

-- rytgersjaffoII
"

LT has had a great career. He has high mileage and should retire while he can still walk away from the game...

"

-- aggiesbeathornets
"

LT will land on a playoff contending team and compliment a stellar offense! I'm sure Boltz fans will miss him though. One of the class-of-the-game- guyz!

"

-- JazC74
"

He wants to go to a contender, he won't be in Cleveland. Pats maybe. Seattle? Naaahhh.

"

-- gomichst8
BEST OF THE BEST
Best triple-double?
Who had the best triple-double -- Michael Carter-Williams, or Victor Oladipo? Cast your votes! »