Philadelphia fans, rejoice: The quarterback who was perhaps your most successful ever has left for a division rival that could really use a successful QB. Congratulations?
That's right; after months of speculation and posturing, the Eagles have traded Donovan McNabb to the Washington Redskins. You might recall that the Redskins have had a bit of a problem scoring points and Jason Campbell just was not cutting it, so the move might pay dividends for Washington. Now, admittedly, very few people see McNabb winning a Super Bowl any time soon, but that question was asked when McNabb was expected to go to a team like, say, the Bills or Raiders. The Redskins have talent, experience and now a legitimate quarterback. McNabb's career started with boos at the draft; will it finish with cheers in the nation's capital?
"

I loved Mcnabb and wish him the best. I really do. He is a very good QB, but hasn't been the same since he tore his ACL. He will no doubt upgrade your QB position, but like you saw last year on the Eagles, without a good o-line he will struggle.

"

-- utley20
"

McNabb is not some schlubb. He is a very good quaterback, and no one wants to really see him go, but we don't mind it here in philly. As its been said here - the problem is McNabb loves to win, but doesn't hate to lose. The great ones always hate to lose.

"

-- phishdeli7
"

This is a joke. McNabb is NOT a very good quarterback, and has even LESS weapons on the Skins. They'll finish LAST again in the division, and are definitely not "co-favorites". What a joke.

"

-- sportyguyusa
BEST OF THE BEST
Best dancers?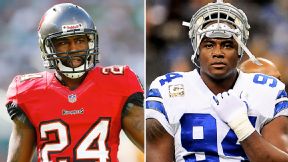 Which player has a brighter NFL future: Darrelle Revis, or DeMarcus Ware? Vote! »