To put it lightly, David Ortiz struggled out of the gate in the 2009 regular season.
He put up a .623 OPS in April. He managed a .520 OPS in May, which would make Yuniesky Betancourt hang his head in shame. Ortiz finally picked it up in June, blasting seven home runs to the tune of a 1.062 OPS, but the damage was done -- he barely finished the season with a sub-.800 mark, his lowest figure since 2001. This season, Big Papi's conjuring up memories of his previous struggles, going hitless in two games and lashing out at reporters after last night's loss. It certainly doesn't look good when Ortiz struggles so badly, but let's be clear: baseball is a game that requires long stretches of time and big sample sizes in order to properly judge talent. If Ortiz had gone hitless in games 75 and 76 instead of games 1 and 2, would anyone even notice? We'd say no.
"

it would be a huge sign seeing him go deep off of a good lefty pitcher. On the flip side, he won't have proven anything if he goes hitless against Pettite, but then lights up the Royals 4 and 5 pitchers.

"

-- biiiiiiigbaaaaaabay
"

Francona should be reminded that the 'Big Picture' includes Varitek, Ortiz and Lowell all being in the final year of their contract. They won't be back, so there is no reason to allow Ortiz to sleep half the season like last year. If Ortiz doesn't have it together in the next month, it's time for a switch.

"

-- gsaggese
"

I think part of it is that Ortiz' mechanics just look so BAD. It seems like they've always looked that way, but now the results aren't there.

"

-- traumor
BEST OF THE BEST
Best dancers?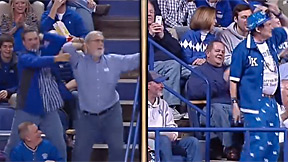 Which fans were better dancers at Tuesday night's Alabama/Kentucky matchup? Vote! »